United States Earth Articles
Earth News
Written by Joan Russow
Sunday, 12 May 2013 14:57
—By Tom Philpott Mother  JOnes
Back in early 2012, the US Department of Agriculture seemed on the verge of approving new genetically modified crops from agrichemical giants Monsanto and Dow. The two agrichemical giants were pushing new corn and soy varieties that would respond to the ever-expanding problem of herbicide-tolerant superweeds by bringing more-toxic herbicides into the mix—and likely ramping up the resistance problem, as I explained at length in a post at the time.
Even some mainstream ag scientists were alarmed at the coming escalation in the war against weeds. Scientists at Penn State—not exactly a hotbed of alternative ag thinking—delivered a damning analysis of the novel crops, which would engineered to withstand not only Monsanto's Roundup herbicide, but also the highly toxic old ones 2,4-D (Dow's version) and Dicamba (Monsanto's).
Last Updated on Sunday, 12 May 2013 15:01
Read more...
Earth News
Written by Joan Russow
Saturday, 11 May 2013 19:53
By ANDREW POLLACK:  New York Times May 10, 2013 http://www.nytimes.com/2013/05/11/business/energy-environment/environmental-review-to-delay-two-engineered-crops.html?_r=1&Genetically engineered crops that could sharply increase the use of two powerful herbicides are now unlikely to reach the market until at least 2015 because the Department of Agriculture has decided to subject the crops to more stringent environmental reviews than it had originally intended.
The department said on Friday that it had made the decision after determining that approval of the crops "may significantly affect the quality of the human environment."
The crops in question are Dow Chemical's corn and soybeans that would be resistant to the herbicide 2,4-D and Monsanto's dicamba-resistant cotton and soybeans.
Last Updated on Saturday, 11 May 2013 20:00
Read more...
Earth News
Written by Joan Russow
Friday, 10 May 2013 14:54
Courtesy of Brown Divest Coal
At about 300 colleges across the country, young activists worried about climate change are borrowing a strategy that students successfully used in decades past. In the 1980s, students enraged about South Africa's racist Apartheid regime got their schools to drop stocks in companies that did business with that government. In the 1990s, students pressured their schools to divest Big Tobacco.
This time, the student activists are targeting a mainstay of the economy: large oil and coal companies.
Last Updated on Friday, 10 May 2013 20:07
Read more...
Earth News
Written by Joan Russow
Monday, 06 May 2013 08:01
By Carey L. Biron||WASHINGTON, May 3 2013 (IPS) - A major study by the U.S. government's environment and agriculture agencies has suggested a strong link between the use of certain pesticides and the widespread deaths that have afflicted honey bee populations around the world in recent years.
Still, the joint report, released Thursday, does not suggest limiting the use of these pesticides, nor does it recommend immediate action to impose a temporary ban, as was announced this week in a landmark decision by the European Union. Rather, the report offers technical tweaks while urging additional research on the issue.
"The five-to-ten-year timeframe these agencies are now saying they will follow is not fast enough." -- Pesticide Action Network's Paul Towers
Last Updated on Monday, 06 May 2013 19:50
Read more...
Earth News
Written by Joan Russow
Monday, 29 April 2013 06:07
ATLANTA, Georgia, Apr 28 2013 (IPS) - Food safety advocates are outraged over revelations that U.S. Congress and President Barack Obama approved an act that includes a provision purporting to strip federal courts of the ability to prevent the spread of genetically modified organisms (GMOs).
Last Updated on Monday, 29 April 2013 06:10
Read more...
Earth News
Written by Joan Russow
Saturday, 27 April 2013 13:44
by: Adam Russell  Apr. 25, 2013
Previously undisclosed documents reveal requests by several companies to obtain government approval to grow controversial salmon in U.S. facilities
WASHINGTON, D.C.–Earthjustice, Friends of the Earth, Center for Food Safety, and Food & Water Watch will join nearly 1.5 million people who have raised vehement objections, based on science, policy and law, to a proposal before the Food and Drug Administration to approve genetically engineered salmon, the first-ever GE animal intended for human consumption. The comment period ends Friday, April 26, at midnight.
Last Updated on Saturday, 27 April 2013 16:59
Read more...
Earth News
Written by Joan Russow
Wednesday, 24 April 2013 05:18
Momentum shifts again toward pipeline opponents in the long-running battle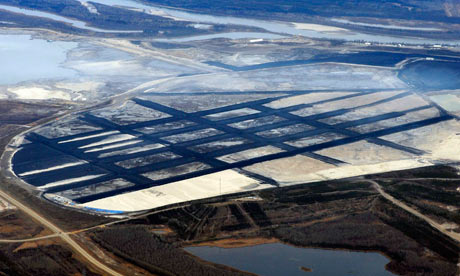 The Keystone XL oil pipeline will connect Alberta's tar sands to Texas refineries. Photograph: Todd Korol/REUTERS

Leading environmental groups declared on Monday that the Obama administration's latest environmental review of the Keystone XL pipeline fundamentally violated the nation's core environmental law, an unmistakable warning that they would sue the State Department if it continued to insist that the pipeline poses no significant environmental risk.
Last Updated on Wednesday, 24 April 2013 05:21
Read more...
Earth News
Written by Joan Russow
Sunday, 21 April 2013 15:17
A new movement seeks to change laws to give our ecosystem legitimate legal protection. With Earth Day around the corner, it's a good time to step back and see how we've been doing since the first Earth Day in 1970, when 20 million people took to the streets to protest rivers on fire, DDT-poisoned birds, sewage on beaches, and a devastating oil spill off the pristine Santa Barbara coast.
Last Updated on Sunday, 21 April 2013 15:43
Read more...
Earth News
Written by Joan Russow
Friday, 19 April 2013 08:14
by LYNEE PEEPLES
http://www.huffingtonpost.com/2013/04/17/keystone-xl-native-americans-tribes_n_3102454.html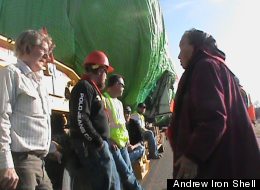 Debra White Plume and Marie Brush Breaker Randall stood in the middle of Highway 44, alongside more than 70 other members of the Oglala Lakota Nation. For hours, they didn't budge -- much to the chagrin of some tractor-trailer drivers bound for the tar sands region of Alberta, Canada.
"This is our land," said Randall, during the blockade in March 2012. "We have to protect" our grandchildren. Randall, then 92, appealed to the truckers attempting to pass through the sovereign territory in Wablee, S.D.: "Please stay out of our nation."
Read more...
Earth News
Written by Joan Russow
Saturday, 30 March 2013 04:55
Last Updated on Saturday, 30 March 2013 05:03
Read more...
<< Start < Prev 1 2 3 4 5 6 7 8

9

10 Next > End >>