International Earth Articles
Earth News
Posted by Joan Russow
Friday, 15 June 2018 10:13
bY Yuka Obayashi, Rod Nickel
https://ca.reuters.com/article/domesticNews/idCAKBN1JB100-OCADN
TOKYO/WINNIPEG, Manitoba (Reuters) - Japan's farm ministry said on Friday it has suspended its tender and sale of wheat from Canada after grain containing a genetically modified trait was discovered last summer in Canada's Alberta province.
The Canadian Food Inspection Agency (CFIA) said on Thursday the wheat containing a genetically modified trait, developed by Monsanto Co (BAYGn.DE) to tolerate the Roundup weed-killer, was discovered in Alberta.
"We are suspending the tender and sale of Canadian wheat until we confirm that the Canadian wheat that Japan buys contains no GMO," an official at the Japanese farm ministry said.
Read more...
Earth News
Posted by Joan Russow
Thursday, 14 June 2018 08:38
All 28 EU member states must approve the agreement for it to take full effect
Thomson Reuters · Posted: Jun 14, 2018 9:13 AM ET | Last Updated: an hour ago
Quality control employee Fabrizio Giberti inspects a Parmigiano Reggiano Parmesan cheese wheel amongst those stacked in the Credito Emiliano bank temperature-controlled vault, in Montecavolo, near Reggio Emilia, Italy, Thursday Aug. 20, 2009. In the 28-member European Union, Italy has the most food products with PDO and PGI labels, including Parmigiano Reggiano cheese and Prosciutto di Parma ham. (The Associated Press)
739 comments
Italy will not ratify the European Union's free trade agreement with Canada, its new agriculture minister said on Thursday, ratcheting up an international trade spat and potentially scuppering the EU's biggest accord in years.
The Comprehensive Economic and Trade Agreement (CETA) is the first major trade deal the European Union has signed since it began implementing its South Korea agreement in 2011.
All 28 EU member states must approve the agreement for it to take full effect.
Last Updated on Friday, 15 June 2018 10:12
Read more...
Earth News
Posted by Joan Russow
Saturday, 09 June 2018 08:39
BY AVERY ANAPOL - 06/09/18 07:21 AM EDT  1,549
http://thehill.com/policy/energy-environment/391470-pope-warns-oil-executives-climate-change-may-destroy-civilization
© Getty Images
Pope warns oil executives: Climate change may 'destroy civilization'
Pope Francis on Saturday issued a dire warning to top oil executives, saying that climate change could "destroy civilization."
At a two-day conference at the Vatican, the pope called climate change a challenge of "epochal proportions," according to Reuters.
He also said that the world must move toward using clean energy and a reduction in the use of fossil fuels.
"Civilization requires energy but energy use must not destroy civilization," Francis said.
Read more...
Earth News
Posted by Joan Russow
Friday, 08 June 2018 18:28
The coming marine shipping rules could double or even triple the discount on heavy oil, pushing it much wider than the US$30 a barrel discount from earlier this year
Raw oilsands. Tighter pollution rules by the International Maritime Organization is expected to wallop prices for heavy oil containing high levels of sulphur.Jeff McIntosh/The Canadian Press
http://business.financialpost.com/commodities/energy/new-marine-fuel-standards-expected-to-hit-prices-for-oilsands-crude-in-2020
June 7, 2018
CALGARY — Canada's oilsands industry, hard hit by a price storm this year, could be sailing straight into a pricing typhoon stirred up by new fuel standards for the international shipping industry.
The tighter pollution rules by the International Maritime Organization, dubbed IMO 2020, are set to take effect Jan. 1, 2020, resulting in the sulphur content limit of "bunker" fuel on ships dropping from 3.5 per cent to just 0.5 per cent.
The switch is expected to wallop prices for heavy oil containing high levels of sulphur — exactly the kind of the raw bitumen that makes up about half of Canada's 4.4 million barrels per day of crude oil production.
"It's bad news for any producers of heavy, sour crude oil," said Martin Tallett, president of Massachusetts-based oil market research firm EnSys Energy.
"The shock is going to go through the system and affect all products, all regions."
Read more...
Earth News
Posted by Joan Russow
Tuesday, 05 June 2018 07:40
IUCN Director General's statement for World Environment Day and World Oceans Day 2018
Tue, 05 Jun 2018
We have all seen the images of plastic polluting beaches and entangling marine animals from the tropics to the Arctic. Plastic pollution has become a truly global environmental problem, just as plastic itself is an all-pervasive part of our lives. On this World Environment Day, we are reminded that this challenge has no easy solutions. As such, we must accept that looking for a silver bullet will create the illusion of progress while the real problem only gets worse.
Marine life faces growing threats from plastic entering the world's oceans. 
Read more...
Earth News
Posted by Joan Russow
Tuesday, 05 June 2018 03:28
'Carbon bubble' could spark global financial crisis, study warns
Advances in clean energy expected to cause a sudden drop in demand for fossil fuels, leaving companies with trillions in stranded assets
Fiona Harvey Environment correspondent
https://www.theguardian.com/environment/2018/jun/04/carbon-bubble-could-spark-global-financial-crisis-study-warns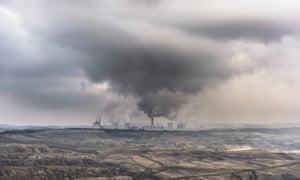 A sudden drop in demand for fossil fuels could happen before 2035, a new study shows. Photograph: Florian Gaertner/Photothek via Getty Images




Lignite-fired power station in Poland

A sudden drop in demand for fossil fuels could happen before 2035, a new study shows. Photograph: Florian Gaertner/Photothek via Getty Images

Plunging prices for renewable energy and rapidly increasing investment in low-carbon technologies could leave fossil fuel companies with trillions in stranded assets and spark a global financial crisis, a new study has found.

 

A sudden drop in demand for fossil fuels before 2035 is likely, according to the study, given the current global investments and economic advantages in a low-carbon transition.

 

The existence of a "carbon bubble" – assets in fossil fuels that are currently overvalued because, in the medium and long-term, the world will have to drastically reduce greenhouse gas emissions – has long been proposed by academics, activists and investors. The new study, published on Monday in the journal Nature Climate Change, shows that a sharp slump in the value of fossil fuels would cause this bubble to burst, and posits that such a slump is likely before 2035 based on current patterns of energy use.

 
Last Updated on Tuesday, 12 June 2018 10:33
Read more...
Earth News
Posted by Joan Russow
Friday, 25 May 2018 12:30
OPINION & ANALYSIS
FULL STORY: THE ENERGY MIX @THEENERGYMIX
MAY 24, 2018
By PRIMARY AUTHOR PAUL MCKAY
http://theenergymix.com/2018/05/24/exclusive-new-ship-fuel-rules-could-sink-tar-sands-oil-sands-expansion/
The law of unintended consequences may soon cause serious collateral damage to Alberta's tar sands/oil sands ambitions, and the planned Trans Mountain and Keystone XL pipelines.
The United Nations International Maritime Organization (IMO) recently approved new, much stiffer fuel standards for the 50,000 ocean-going vessels which currently burn low-grade, high-sulphur oil. Known as Bunker C, it is cheap and dirty. An estimated four million barrels per day are burned in all manner of merchant ships, including oil tankers. The related greenhouse gas emissions roughly equal those from all sources in Germany.
Like this story? Subscribe to The Energy Mix and never miss an edition of our free e-digest.
SUBSCRIBE
But the days of Bunker C are numbered. The fatal bullet will be sulphur-tipped. By 2020, the IMO has mandated that the commercial fleets it represents can only buy and burn ship engine oil with a sulphur content of 0.5%. That is a 700% reduction from the current average. It has been estimated that the 15 largest ocean vessels currently emit as much sulphur annually as all of the world's cars.
And as that massive shift unfolds, Alberta's tar sands/oil sands production will probably be in the crosshairs.
Last Updated on Friday, 25 May 2018 12:35
Read more...
Earth News
Posted by Joan Russow
Tuesday, 22 May 2018 15:13
Environmental Uncertainties Halt Deep Sea Mining
SYDNEY, Dec 17 2012 (IPS) - The world's first deep sea mineral (DSM) mining venture in the Bismarck Sea off the northern coast of Papua New Guinea in the southwest Pacific has come to a halt after two years of development.
While the mining company is embroiled in a disagreement over project funding, unprecedented opposition by politicians, academics and local communities has focussed on the unknown environmental and social impacts of this untried mineral extraction process.
Deep sea mining, considered the new resource frontier, has been the subject of debate since the 1960s. But financial and technological constraints have hindered the viability of ventures.
Now, the gradual depletion of land-based mineral resources, a rise in demand for metals by growing economies in Asia and rapid technological advances have generated new interest in deep sea mining.
Read more...
Earth News
Posted by Sue Hiscocks
Monday, 07 May 2018 11:19
What is Canada and the rest of the world going to do to stop the US from spraying stratospheric aerosol over the planet?
Earth News
Posted by Joan Russow
Friday, 27 April 2018 11:58
By Joan Russow PhD
Clobal Compliance Research Project 
Friday April 27 2018, 
At COP 21Ban Ki Moon, in Paris, urged states to negotiate with a global vision not with national vested interests (Cop21 press conference)
GLOBAL VISION 
A global vision  would be: 
to address article 2 of the UNFCCC and at a minimum to immediately end all subsidies for fossil fuel, to calculate the carbon budget for each state,
to divest in fossil fuels and to reinvest in renewable energy, to conserve sinks -such as old growth forests and bogs, to strengthen conservation of  biodiversity, 
to avoid all false solutions such as nuclear, geo-engineering and biofuels which would all violate principles within the UNFCCC, to compensate for historical  emissions,
and to institute a fair and just transition for workers affected negatively by the new vision.  and to promote nature based solutions  and socially equitable
and environmentally sound such as solar, wind, tidal, and geothermal
REDEFINING WHAT CONSTITUTES TRUE SECURITY:
COMMON SECURITY
. "True security exists when all are secure, through common security." (Olof Palme, 1982) whose objectives could be extended to include but not limited to the following:
(a) To achieve a state of peace, and disarmament; through reallocation of military expenses and delegitimization of war;
(b) To ensure the preservation, conservation and protection of the environment, the respect for the inherent worth of nature beyond human purpose, to reduce the ecological footprint and to move away from the current model of unsustainable and excessive overconsumption
(c) To enable socially equitable and environmentally sound employment, energy and transportation and the right to development,
(d) To promote and fully guarantee respect for human rights including  labour rights, civil and political rights, indigenous rights, social and cultural rights – right to food, to housing, to safe drinking water and sanitation , right to education and right to universally accessible not for profit health care system; right to water and sanitation
(e) To fulfill the Sustainable Development Goals.
(f) To respect the international rule of law, its instruments and the jurisdiction and decisions of the international Court of Justice
THERE SHOULD BE LEGAL MEANS FOR  IMPLEMENTATION 
All states have ratified the UN Framework Convention on Climate Change and incurred an obligation under article 2.
under Article 2 of the UNFCCC, the signatories incurred the following obligation; "stabilization of greenhouse gas concentrations in the atmosphere must be at a level that would prevent dangerous anthropogenic interference with the climate system.
The major fossil fuel states have failed to prevent dangerous anthropogenic interference with the climate system
The developing states especially the least developed and low-lying states could take the major fossil fuel states to the international Court of Justice
Or to the ICC and be prosecuted for crimes against humanity, and against the ecosystem and for Criminal negligence
 But the US and other fossil fuel states have not ratified the Rome statute, the UN General Assembly could invoke article 22 and set up a tribunal
If you respond, do not respond to this email but to  This e-mail address is being protected from spambots. You need JavaScript enabled to view it
COP24 in Katowice  must avoid the systemic constraints that undermined COP21
SYSTEMIC CONSTRAIN
TS PREVENTING THE COMMITMENT TO URGENCY
IN COP21 IN THE PREAMBLE IS THE "RECOGNITION THAT CLIMATE CHANGE REPRESENTS AN URGENT AND POTENTIALLY IRREVERSIBLE THREAT TO HUMAN SOCIETY AND THE PLANET" YET THE EXISTENCE OF SYSTEMIC CONSTRAINTS PREVENTED COP21 FROM EMBODYING THIS RECOGNITION
1.THE BEST IS THE ENEMY OF THE GOOD- THE COMPROMISERS CREDO
2 BASELINES TARGETS TIMEFRAMES WERE ALL OUT OF SYNC
3. -EXPEDIENT OMISSION; GLOBAL CARBON BUDGET. HISTORICAL AND PER CAPITA EMISSIONS
4. THE SHORTNESS OF INSTITUTIONAL MEMORY AND THE UNDERMINING OF LEGAL OBLIGATIONS FROM ARTICLE 2 3 AND 4
5. A SOLUTION SHOULD NEVER BE EQUALLY BAD OR WORSE THAN THE PROBLEM IT IS INTENDED TO SOLVE
6.SOME STATES ARE MORE EQUAL THAN OTHER
7. THE LOWEST COMMON DENOMINATOR; THE  TYRANNY OF CONSENSUS
8 THE FAILURE TO REVERSE THE EXEMPTION FOR THE CONTRIBUTION TO GREEMHOUSE GAS EMISSION
9. RELUCTANCE TO USE THE INTERNATIONAL COURT AGAINST THE MAJOR EMMITTERS FOR THEY VIOLATIONS OF ARTICLE 2 OF THE UNFCCC
10. IGNORING COMMITMMENT FOR FUNDING SOURCE
Last Updated on Sunday, 16 December 2018 11:22
Read more...
<< Start < Prev 1 2 3 4

5

6 7 8 9 10 Next > End >>