International Earth Articles
Earth News
Posted by Joan Russow
Sunday, 10 February 2019 17:23
BERLÍN, El Salvador, Feb 8 2019 (IPS) - Salvadoran farmer Lorena Mejía opens an incubator and monitors the temperature of the eggs, which will soon provide her with more birds and eggs as the chickens hatch and grow up.
Mejía is one of the beneficiaries of a project that seeks to offer productive ventures to women who, like her, have been deported from Mexico or the United States while they were attempting to achieve "the American dream."
"I left because I worked in a factory in San Salvador, but the money wasn't enough," the 43-year-old woman told IPS in the yard of her home in the village of Talpetate, Berlin municipality in the eastern Salvadoran department of Usulután.
"Rural women are the motors of the economy, and at FAO we support returnees through inclusive and equitable processes." – Emilia González
In 1998, after a dangerous journey of several weeks, Mejia managed to settle in Dallas, Texas in the U.S.
She worked there in cleaning services at a school and in a hotel, but she returned to her country in 2001, with many broken dreams.
"Now I'm focused, together with my colleagues, on making this project grow," she said.
Mejía and other local women farmers founded the Association of Active Women Working Together for a Better Future in 2010, and came up with an initiative that would offer productive opportunities to other returning migrants.
Currently, some 40 women make up this organisation, 15 of whom are involved in poultry production, who have received technical support from the state-run National Centre for Agricultural and Forestry Technology (Centa), as well as from the United Nations Food and Agriculture Organisation (FAO) office in El Salvador.
Read more...
Earth News
Posted by Joan Russow
Friday, 08 February 2019 13:56
Reporterin, BuzzFeed News Deutschland
Posted on February 7, 2019, at 3:37 p.m. ET
Eric Lalmand / AFP / Getty Images
LONDON — A huge student protest movement led almost exclusively by teenage girls and young women is sweeping Europe, and it's on the brink of breaking through in the US.
So far this year, tens of thousands of high school–age students in Belgium, Germany, and Sweden have boycotted class and protested against climate change. The loose movement's inspiration, a 16-year-old girl who began a solitary picket last year outside the Swedish Parliament in Stockholm, has compared the protests to the March for Our Lives movement organized by the Parkland teens in the wake of a shooting at their school that left 17 dead.
In the latest mass climate strikes, large crowds took to the streets in The Hague on Thursday, in the largest such protest in the Netherlands so far. The teens leading the climate strike across the border in Belgium were in Leuven, the country's eighth-largest city, where they told BuzzFeed News they had 12,000 people on the streets in one of many actions across the country.
Read more...
Earth News
Posted by Joan Russow
Tuesday, 05 February 2019 14:39
Below is the transcript of the speech of Greta Thunberg at the COP24 in Katowice, Poland. A hearthfelt, harsh speech she gave with a calm voice, addressing the world's leaders.
"My name is Greta Thunberg. I am 15 years old. I am from Sweden. I speak on behalf of Climate Justice Now. Many people say that Sweden is just a small country and it doesn't matter what we do. But I've learned you are never too small to make a difference. And if a few children can get headlines all over the world just by not going to school, then imagine what we could all do together if we really wanted to.
Last Updated on Tuesday, 05 February 2019 14:57
Read more...
Earth News
Posted by Joan Russow
Tuesday, 05 February 2019 13:06
LOS ANGELES (Reuters) - For three decades, California has led the fight to control tailpipe pollution, with countless policies promoting cleaner gasoline, carpooling, public transportation and its signature strategy - the electric vehicle.
Read more...
Earth News
Posted by Joan Russow
Monday, 04 February 2019 17:24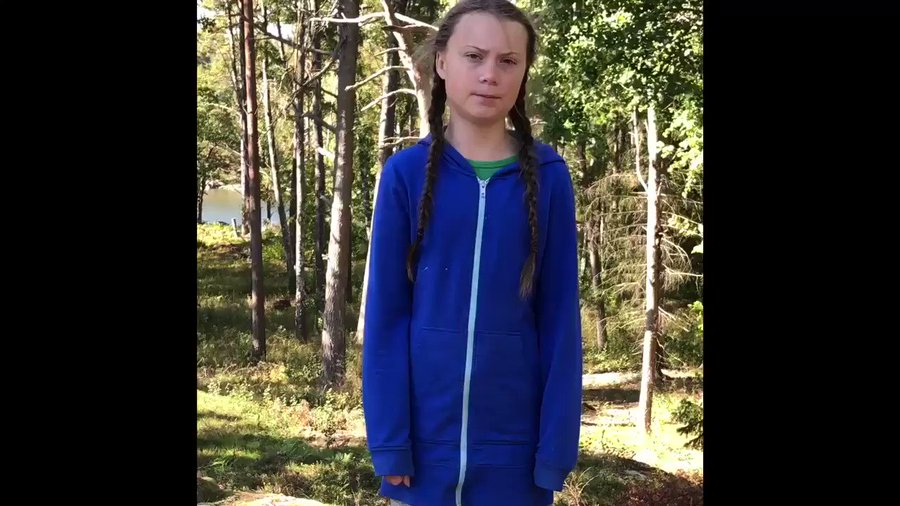 The COP24 in Katowice has ended leaving many doubts among environmental associations. However, there's who doesn't give in – like Swedish activist Greta Thunberg, who decided to go to Poland to give a speech at the UN climate conference.
Last Updated on Tuesday, 05 February 2019 13:48
Read more...
Earth News
Posted by Joan Russow
Saturday, 26 January 2019 09:40
THE SALISH SEA, IN BC, CANADA SHOULD BE DESIGNATED A PSSA
In the Canadian Federal response to a proposal for the PSSA designation for the Salish Sea was the following statement:
``a PSSA designation for the Salish Sea is not the appropriate approach as it would imply that A PSSA designation for the Salish Sea would be decided by IMO`S 170 Member States to waters that fall under the jurisdiction of Canada and the US``
Given that in the Salish Sea, US military operations are encroaching, Kinder Morgan oil pipe line and tanker traffic is possibly expanding multifold, and LNG Projects proliferating, senior levels of government have been remiss in not fulfilling their responsibilities, under their jurisdictions, towards the sensitivity of the Salish Sea.
The Salish Sea appears to fulfill many of the criteria in the new IMO criteria for the designation of PSSAs such as the following:
1.3. Areas important for the conservation of biological diversity as well as other areas with high ecological, cultural, historical/archaeological, socio-economic or scientific significance.
4.1 An area that could be at risk from international shipping activities. Type and quantity of substances on board, and cargo, … that would be harmful if released into the sea
4.4.5 An area that may have an exceptional variety of species or genetic diversity or includes highly varied ecosystems, habitats, and communities.
4.4.7 An area that may be a critical spawning or breeding ground or nursery area for marine species which may spend the rest of their life-cycle elsewhere, or is recognized as migratory routes for fish, birds, mammals, or invertebrates.
4.4.13An area that is of particular importance for the support of traditional subsistence or food production activities or for the protection of the cultural resources of the local human populations.
6.2consideration should also be given to the potential for the area to be listed on the World Heritage List, declared a Biosphere Reserve, or included on a list of areas of international, regional, or national importance.
Currently. proposals, in the Salish Sea, for a Marine Protected Area, have been submitted and an initiative for a Salish Sea Biosphere Reserve is in progress.
Municipalities and Regional Districts, and indigenous communitywide be more aware, than senior level governments, of current and future impacts of developments on the Salish Sea. Unfortunately, legitimate concerns of First Nations, and those of municipal and regional governments have often been ignored by senior levels of governments.
Since the governments of Canada and the US may have reneged on their obligations under the IMO, an appropriate approach would be for local municipal and indigenous communities to continue to work with the IMO and perhaps invite an IMO delegation to visit the Salish Sea.
BACKGROUND EXCERPTS
UN CONVENTION ON THE LAW OF THE SEAS (UNCLOS)
Canada signed July 29 2994 ratified November 2003
Article 145 Protection of the marine environment Necessary measures shall be taken in accordance with this Convention with respect to activities in the Area to ensure effective protection for the marine environment from harmful effects which may arise from such activities. To this end the Authority shall adopt appropriate rules, regulations and procedures for inter alia:
(a) the prevention, reduction and control of pollution and other hazards to the marine environment, including the coastline, and of interference with the ecological balance of the marine environment, particular attention being paid to the need for protection from harmful effects of such activities as drilling, dredging, excavation, disposal of waste, construction and operation or maintenance of installations, pipelines and other devices related to such activities;
Xii Protection and of the Marine Environment section 1. General Provisions
Article 192 General obligation States have the obligation to protect and preserve the marine environment.
Article 193 Sovereign right of States to exploit their natural resources States have the sovereign right to exploit their natural resources pursuant to their environmental policies and in accordance with their duty to protect and preserve the marine environment.
Article 194 Measures to prevent, reduce and control pollution of the marine environment 1. States shall take, individually or jointly as appropriate, all measures consistent with this Convention that are necessary to prevent, reduce and control pollution of the marine environment from any source, using for this purpose the best practicable means at their disposal and in accordance with their capabilities, and they shall endeavour to harmonize their policies in this connection. 2. States shall take all measures necessary to ensure that activities under their jurisdiction or control are so conducted as not to cause damage by pollution to other States and their environment, and that pollution arising from incidents or activities under their jurisdiction or control does not spread beyond the areas where they exercise sovereign rights in accordance with this Convention.
Article 195 Duty not to transfer damage or hazards or transform one type of pollution into another in taking measures to prevent, reduce and control pollution of the marine environment, States shall act so as not to transfer, directly or indirectly, damage or hazards from one area to another or transform one type of pollution into another.
1995 AGREEMENT FOR THE IMPLEMENTATION OF THE PROVISIONS OF THE UNITED NATIONS CONVENTION ON THE LAW OF THE SEAOF 10 DECEMBER 1982 RELATING TO THE CONSERVATION ANDMANAGEMENT OF STRADDLING FISH STOCKS AND HIGHLY
MIGRATORY FISH STOCKS
Preamble: Conscious of the need to avoid adverse impacts on the marine environment, preserve biodiversity, maintain the integrity of marine ecosystems and minimize the risk of long-term or irreversible effects of fishing operations,
Article 2Objective
The objective of this Agreement is to ensure the long-term conservation and sustainable use of straddling fish stocks and highly migratory fish stocks through effective implementation of the relevant provisions of the Convention.
Article 3 Application.
Unless otherwise provided, this Agreement applies to the conservation and management of straddling fish stocks and highly migratory fish stocks beyond areas under national jurisdiction, except that articles 6 and 7 apply also to the conservation and management of such stocks within areas under national jurisdiction, subject to the different legal regimes that apply within areas under national jurisdiction and in areas beyond national jurisdiction as provided for in the Convention.
Part ii Conservation and Management of Straddling Fish Stocks
and highly migratory fish stocks
Article 5General principles
In order to conserve and manage straddling fish stocks and highly migratory fish stocks, coastal States and States fishing on the high seas shall, in giving effect to their duty to cooperate in accordance with the Convention:
adopt measures to ensure long-term sustainability of straddling fish stocks and highly migratory fish stocks and promote the objective of their optimum
Article 6cApplication of the precautionary approach
1. States shall apply the precautionary approach widely to conservation, management and exploitation of straddling fish stocks and highly migratory fish stocks in order to protect the living marine resources and preserve the marine environment.
2. States shall be more cautious when information is uncertain, unreliable or inadequate. The absence of adequate scientific information shall not be used as a reason for postponing or failing to take conservation and management measures.
OCEANS ACT:
Article 2.1 For greater certainty, nothing in this Act shall be construed so as to abrogate or derogate from any existing aboriginal or treaty rights of the aboriginal peoples of Canada under section 35 of the Constitution Act, 1982.
Principles of strategy: The national strategy will be based on the principles of
(a) sustainable development, that is, development that meets the needs of the present without compromising the ability of future generations to meet their own needs;
(b) the integrated management of activities in estuaries, coastal waters and marine waters that form part of Canada or in which Canada has sovereign rights under international law; and
(c) the precautionary approach, that is, erring on the side of caution.
Earth News
Posted by Joan Russow
Tuesday, 22 January 2019 14:27
Home to vibrantly colored, tiny creatures, the ecosystems floating on the ocean's surface remain all but unknown.
REBECCA HELM - 10:18 AM ET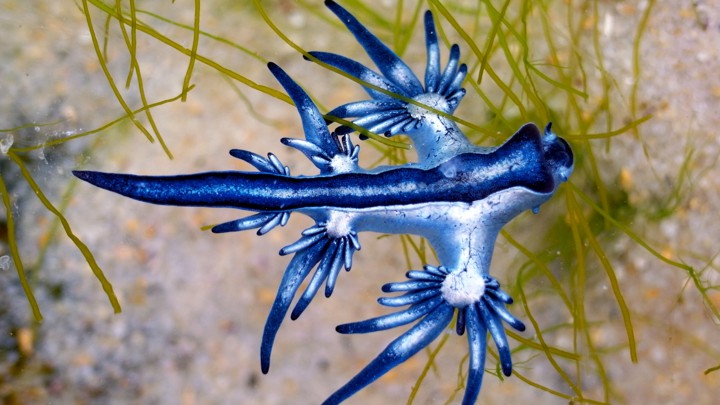 Blue sea dragons are part of the neuston.SHUTTERSTOCK
Imagine you're on a small boat in the middle of the open ocean, surrounded by what looks like a raft of plastic. Now flip the whole world upside down. You remain comfortably attached to your seat—the abyss towers above you, and all around, stretching up from the water's surface, is an electric-blue meadow of life. What you thought was plastic is actually a living island. This meadow is made up of a diverse collection of animals. The most abundant are blue buttons and by-the-wind sailors, with bright-blue bodies that dot the sky like suns, and deep-purple snails found in patches so dense one scientist described collecting more than 1,000 in 20 minutes.
Last Updated on Tuesday, 22 January 2019 17:46
Read more...
Earth News
Posted by Joan Russow
Monday, 21 January 2019 16:38
UNITED NATIONS, Jan 21 2019 (IPS) - While the modern agricultural system has helped stave off famines and feed the world's 7 billion residents, the way we eat and produce food is posing a threat to future populations' food security.
With an expected increase in population to 10 billion in 2050, ensuring food security is more important than ever.
However, current food production is among the largest sources of environmental degradation across the world.
If such production and consumption patterns continue, we will soon exceed our planetary boundaries such climate change and land use needed to survive and thrive.
"It was quite dramatic to see how much those planetary boundaries would be exceeded if we don't do anything," said Marco Springmann, one of the authors of a report examining the impact of the food system on the environment
Read more...
Earth News
Posted by Joan Russow
Thursday, 17 January 2019 22:08
By Tharanga Yakupitiyage
A desalination plant. Across 177 countries, there are now 16,000 desalination plants, many of which are concentrated in the Middle East and North Africa where water scarcity is already a reality.As desalination plants continue to pop up, so does a hypersaline, chemical by-product known as brine. Credit: RoPlant
UNITED NATIONS, Jan 16 2019 (IPS) - As the threat of water scarcity increasingly grows, many have turned to the Earth's plentiful oceans for a solution. However, this has created a new risk threatening public and environmental health: brine.
In a new study, the United Nations University's Institute for Water, Environment, and Health (UNU-INWEH) assessed the state of desalination around the world as countries increasingly convert sea water into freshwater for its citizens.
Last Updated on Friday, 18 January 2019 14:32
Read more...
Earth News
Posted by Joan Russow
Saturday, 12 January 2019 09:54
CANDELARIA DE LA FRONTERA, El Salvador, Jan 2 2019 (IPS) - As he milks his cow, Salvadoran Gilberto Gomez laments that poor harvests, due to excessive rain or drought, practically forced his three children to leave the country and undertake the risky journey, as undocumented migrants, to the United States.
Gómez, 67, lives in La Colmena, in the municipality of Candelaria de la Frontera, in the western Salvadoran department of Santa Ana.
The small hamlet is located in the so-called Dry Corridor of Central America, a vast area that crosses much of the isthmus, but whose extreme weather especially affects crops in Guatemala, Honduras and El Salvador.
Read more...
<< Start < Prev 1

2

3 4 5 6 7 8 9 10 Next > End >>