International Justice Articles
Justice News
Posted by Joan Russow
Tuesday, 31 December 2019 14:49
2003 US IS AN INTERNATIONAL ROGUE STATE: HYPOCRITICAL STANCES.  CORRUPTIVE PRACTICES, AND ILLEGAL ACTIONS,
FROM THE ARCHIVES 
Joan Russow (PhD) Global Compliance Research Institute
Victoria, Canada 1 250 598-0071
US THWARTS ATTEMPT TO CALL AN EMERGENCY GENERAL ASSEMBLY SESSION
For some time, there has been a campaign to call for an emergency UN General Assembly session, invoking the 1950 Uniting for Peace Resolution. The United States knows that not only is a large percentage of civil society opposing the invasion of Iraq, but also over 80% of the member states of the United Nations would oppose the military invasion of Iraq.
Yesterday, it was revealed in the newspaper La Tercera that the US had been attempting to prevent an emergency General Assembly session.
It is well documented that the US has continually shown disdain for the rule of International law-failing to sign and ratify international instruments, and showing for the jurisdiction of International Court of Justice, and more recently for the International Criminal Court. 
US ENGAGED IN AN ILLEGAL ACT
Read more...
Justice News
Posted by Joan Russow
Wednesday, 27 November 2019 10:50
BY Yves Engler https://yvesengler.com/2019/11/11/canada-backs-coup-againgst-bolivias-president/
In yet another example of the Liberals saying one thing and doing another, Justin Trudeau's government has supported the ouster of Evo Morales. The Liberals position on Bolivia's first ever indigenous president stands in stark contrast with their backing of embattled pro-corporate presidents in the region.
Hours after the military command forced Morales to resign as president of the most indigenous nation in the Americas, Chrystia Freeland endorsed the coup. Canada's foreign affairs minister released a statement noting "Canada stands with Bolivia and the democratic will of its people. We note the resignation of President Morales and will continue to support Bolivia during this transition and the new elections." Freeland's statement had no hint of criticism of Morales' ouster, who still has two months left on his 2015 election mandate. Elsewhere, leaders from Argentina to Cuba, Venezuela to Mexico, condemned Morales' forced resignation.
Ten days ago Global Affairs Canada echoed the Trump administration's criticism of Morales' first round election victory. "It is not possible to accept the outcome under these circumstances," said a Global Affairs statement. "We join our international partners in calling for a second round of elections to restore credibility in the electoral process."
Read more...
Justice News
Posted by Joan Russow
Thursday, 14 November 2019 15:19
"There's really nothing in [the OAS's] latest so-called preliminary audit that shows that there was any fraud in this election. But it was repeated over and over again," Weisbrot told Democracy Now. The coup came after "The Trump administration and the OAS...tried — without offering any evidence — to discredit Bolivia's national election in the past couple of weeks," Weisbrot wrote at The Nation.
<"2020 Presidential candidates have elevated [housing] as an issue" />
CEPR's Andrea M. Beaty and Shawn Fremstad prepared a report comparing rental housing and homelessness policies expressed or proposed by most of the presidential candidates of the two major parties. This report documents the candidates' positions on a broad range of rental housing policy, including affordabilty, housing assistance, tenant protections, discrimination, and homelessness. In addition, it outlines the current funding levels of selected federal housing and homelessness programs.
Inflation inequality is one more reason the US must update its poverty measure, writes Shawn Fremstad. Citing research by the Groundwork Collaborative, Fremstad notes that the US "is the only country in the world…using a poverty line set over half a century ago and since then only adjusted for inflation." 
Eileen Appelbaum will be a featured presenter at The Hidden Costs of Healthcare, a special two-hour event hosted by the Institute for New Economic Thinking (INET). The event draws attention to important, but overlooked, factors contributing to rising healthcare costs, including groundbreaking research from Appelbaum and Rosemary Batt into the role private equity firms play in surprise medical billing.
The event is tomorrow, November 15, starting at 10 am, at the National Press Club in Washington, DC. This is a public event, but please register here.
CEPR is Looking for Winter Interns (January – May 2020)
If you're passionate about current economic and global justice issues, apply for a paid internship in our domestic program by Saturday, November 30 or in our international program by Sunday, December 8th.
The Revolving Door Project (RDP), a project of CEPR, now has a newsletter and its own official Twitter account. Every two weeks, the newsletter will give you an update on how the executive branch is promoting economic inequality, what Congress is or isn't doing in response, and whether 2020 presidential candidates would be any better. Subscribe to the RDP newsletter and follow @revolvingdoorDC on Twitter.
Newsletter:
Less Drowsy Congress Still Less Observant than Bank Lobbyists
November 6, 2019
RDP Highlights:
Dems Must Confront GOP Attacks On Independent Agencies
by Max Moran
Freshman Democrats Seek to Make Corporate Oversight Routine Again
by Eleanor Eagan
New York Magazine, quoting Eileen Appelbaum, The Senseless Death of Deadspin

BBC World News, interviewing Mark Weisbrot, The Bolivian Elections

New York Times, quoting Dean Baker, Bill Gates, I Implore You to Connect Some Dots

CNN, citing CEPR, Bolivia's Evo Morales on Plane to Mexico Amid Political Crisis

MarketPlace Radio, quoting Dean Baker, Worker Productivity Declined for First Time in Four Years

Thom Hartmann Program, interviewing Guillaume Long, Right Wing Oligarchs Behind Bolivian Coup Exposed!
Inflation Inequality and the Poverty Measure
by Shawn Fremstad
The Center for Economic and Policy Research (CEPR) is an independent, nonpartisan think tank that was established to promote democratic debate on the most important economic and social issues that affect people's lives.
CEPR was co-founded by economists Dean Baker and Mark Weisbrot in 1999.
Last Updated on Thursday, 14 November 2019 18:19
Justice News
Posted by Joan Russow
Friday, 08 November 2019 16:14
Examination Finds Tally Sheets Consistent with Evo Morales's First-Round Victory
For Immediate Release: November 8, 2019
Contact: Dan Beeton, 202-239-1460
WRITTEN BY CENTER FOR ECONOMIC AND POLICY RESEARCH CEPR
Washington, DC — Statistical analysis of election returns and tally sheets from Bolivia's October 20 elections shows no evidence that irregularities or fraud affected the official result that gave President Evo Morales a first-round victory, researchers and analysts at the Center for Economic and Policy Research (CEPR) say. Contrary to a postelection narrative that was supported, without evidence, by the OAS Electoral Observation Mission, statistical analysis shows that it was predictable that Morales would obtain a first-round win, based on the results of the first 83.85 percent of votes in a rapid count that showed Morales leading runner-up Carlos Mesa by less than 10 points.
Last Updated on Friday, 15 November 2019 23:21
Read more...
Justice News
Posted by Joan Russow
Saturday, 01 June 2019 14:37
By Dr. Joan Russow
Presented at the eco- solutions conference in Australia by Dr Vanda Rounsefell
Joan Russow is the president of the Global Compliance Research project, and National leader of the Green Party of Canada
Dr. Joan Russow has taught a course in global issues at the University of Victoria. She initiated the Global Compliance Research project and compiled the Charter of obligationsÑ350 pages of international obligations incurred, commitments made and expectations created. This charter was officially distributed to all state delegations at the UN conference on Women. She prepared a similar document for Habitat II and participated at the NGO forum as the chair of the Urbanization caucus. She has been circulating several documents and petitions internationally such as the "UN Proclamation for Translating Rhetoric into Action: A petition for a Citizen's Treaty for Corporate and state Compliance: the Nemesis of MAI, and a petition for an International Court of Compliance where citizens could take evidence of state non-compliance. She was recently elected as National leader of the Green party of Canada, and continues to use international law as an instrument of change in the local, national and international field.
Read more...
Justice News
Posted by Joan Russow
Thursday, 16 May 2019 09:05
A huge concrete dome built over a crater left by one of the 43 nuclear blasts on Runit Island photographed in 1980 (AFP Photo/)
UN Secretary General Antonio Guterres raised concerns Thursday that a concrete dome built last century to contain waste from atomic bomb tests is leaking radioactive material into the Pacific.
Speaking to students in Fiji, Guterres described the structure on Enewetak atoll in the Marshall Islands as "a kind of coffin" and said it was a legacy of Cold War-era nuclear tests in the Pacific
Last Updated on Tuesday, 21 May 2019 10:26
Read more...
Justice News
Posted by Joan Russow
Monday, 13 May 2019 12:45
Gul Jan, 90, and her family fled their village in Ab Kamari district and went to Qala-e-Naw in search of drinking water and food during the 2018 drought in Afghanistan. When this photo was taken in 2018, she, her son Ahmad and her four grandchildren had been living in a makeshift home in the Farestan settlement for internally displaced people for at least four months. Courtesy: NRC/Enayatullah Azad
UNITED NATIONS, May 11 2019 (IPS) - More people are displaced inside their own countries than ever before, and only higher figures can be expected without urgent long-term action, a new report found.
Launched by the Internal Displacement Monitoring Center (IDMC) of the Norwegian Refugee Council (NRC), the new Global Report on Internal Displacement examines trends in internal displacement worldwide and has found a dismal picture.
Related IPS Articles
"This year's report is a sad reminder of the recurrence of displacement, and of the severity and urgency of IDPs' needs. Many of the same factors that drove people from their homes now prevent them from returning or finding solutions in the places they have settled," said IDMC's Director Alexandra Bilak.
"The findings of this report are a wake-up call to world leaders. Millions of people forced to flee their homes last year are being failed by ineffective national governance and insufficient international diplomacy. Because they haven't crossed a border, they receive pitiful global attention," echoed NRC's Secretary-General Jan Egeland.
According to the report, over 41 million people were estimated to be living in internal displacement as of the end of 2018, 28 million of which were new displacements.
A majority were due to natural disasters and just three countries accounted for 60 percent of all new disaster-related displacements.
Last Updated on Tuesday, 21 May 2019 11:06
Read more...
Justice News
Posted by Joan Russow
Monday, 15 April 2019 15:27
This article is part of a series on the current state of civil society organisations (CSOs), which was the focus of International Civil Society Week (ICSW), sponsored by CIVICUS, and which took place in Belgrade, April 8-12.
More than 200 civil society leaders and human rights activists from some 100 countries took to the streets of Belgrade, Serbia in solidarity with those whose basic freedoms are at risk. They participated in the International Civil Society Week (ICSW), sponsored by CIVICUS, which took place in Belgrade, April 8-12. Courtesy: CIVICUS
UNITED NATIONS, Apr 15 2019 (IPS) - Counterterrorism measures are not only affecting extremist groups, but are also impacting a crucial sector for peace and security in the world: civil society.
Civil society has long played a crucial role in society, providing life-saving assistance and upholding human rights for all.
Last Updated on Tuesday, 21 May 2019 11:25
Read more...
Justice News
Posted by Joan Russow
Monday, 08 April 2019 14:02
This article is part of a series on the role of civil society organisations (CSOs), which will be the focus of International Civil Society Week (ICSW), sponsored by CIVICUS, and scheduled to take place in Belgrade, April 8-12.
UNITED NATIONS, Apr 8 2019 (IPS) - As it paves a destructive path against international institutions and multilateralism, the Trump administration is slowly but steadily undermining the United Nations and its affiliated agencies.
The US has already withdrawn both from the Human Rights Council in Geneva and the UN Educational, Scientific and Cultural Organization (UNESCO) in Paris while, at the same time, it has either cut off, or drastically reduced, funding for the UN Population Fund (UNFPA), the UN Relief and Works Agency (UNRWA) and for UN peacekeeping operations (by a hefty $500 million).
The most recent attack has been directed at the International Criminal Court (ICC) in the Hague which was planning to investigate war crimes committed in Afghanistan, focusing both on the Taliban and US soldiers.
The US action to revoke the visa of Fatou Bensouda, Chief Prosecutor of the ICC, has not only triggered protests from academics and from human rights and civil society organizations (CSOs) but also left several lingering questions unanswered.
Last Updated on Monday, 08 April 2019 14:06
Read more...
Justice News
Posted by Joan Russow
Thursday, 04 April 2019 21:15
Global Compliance Research Project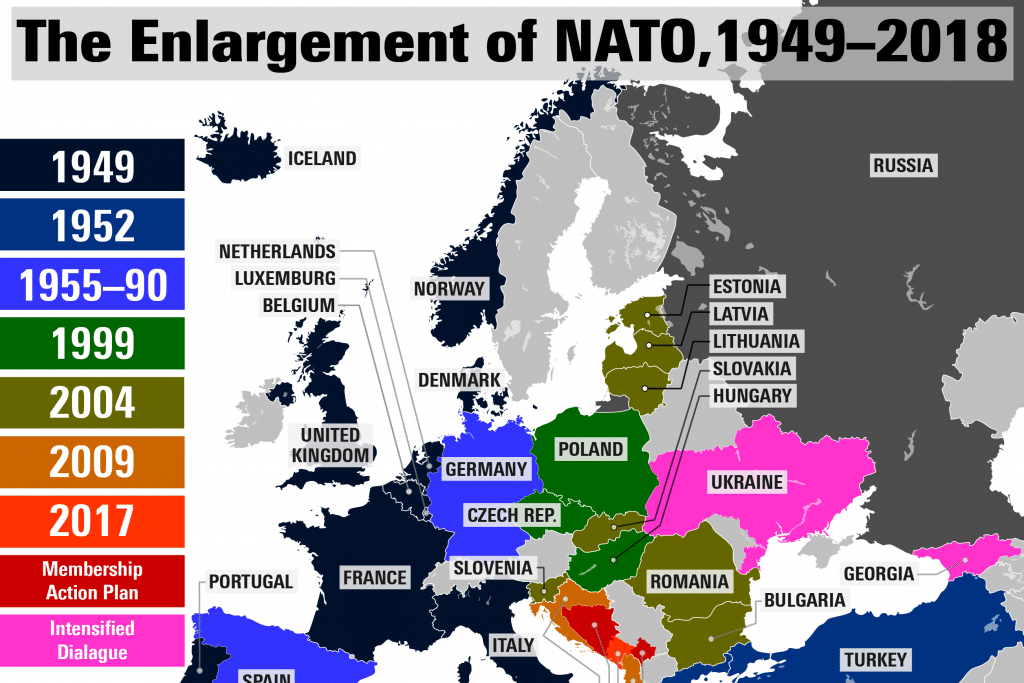 AWARE that NATO states have been complicit or responsible for using the following pretexts for aggressive interventions in other sovereign states
"human security" (Iraq 1991), "Humanitarian intervention" (Kosovo, 1999), "self-defence" (Afghanistan 2001), "Pre-emptive/ preventive" attack (Iraq, 2003) "Responsibility to Protect (Haiti, 2004, Libya, 2011) or "will to intervene" (Mali, 2013). Each time the pretext was discredited, a new pretext emerged.
 RECOGNIZING that true security does not arise: through NATO expansion, through being a nuclear weapons alliance, and opposing the abolition of nuclear weapons, through coercing other states to increase their military budget, and purchase weapons like F 35 and armed drones, through destabilizing other nations, through setting up military bases around the world, through war games and military exercises, through circulating nuclear powered and nuclear arms capable vessel. Etc.
 AFFIRMING that true security exists when all are secure, through "common security" (Olaf Palme,1982)  whose objectives could be the following:
(i)    to achieve a state of peace, and disarmament; through  reallocation of military expenses and delegitimization of war
(ii)    to create a global structure that respects the rule of law, the international court of justice, and the international criminal court,
(iii) to promote and fully guarantee respect for human rights including  labour rights, women's rights LGBTQ rights civil and political rights, migrant iand indigenous rights, social and cultural rights – right to food, right to housing, right to safe drinking water and sewage treatment , right to education and right to universally accessible not for profit health care system;
(iv)  to enable socially equitable and environmentally sound employment, energy and transportation, and just transition and ensure the right to development and social justice
,
(v) to ensure the preservation, conservation and protection of the environment, the respect for the inherent worth of nature beyond human purpose, to reduce the ecological footprint and to move away from the current model of unsustainable and excessive overconsumption.
Last Updated on Tuesday, 19 May 2020 08:07
Read more...
<< Start < Prev 1

2

3 4 5 6 7 8 9 10 Next > End >>