| | | | |
| --- | --- | --- | --- |
| Consent Means Consent Not Consultation, Coercion or "after the Decision", Notification | | | |
Earth News
Written by Joan Russow
Thursday, 13 June 2019 07:22
1.The Lubicon Cree: Ongoing human rights violations
The Lubicon Cree: Ongoing human rights violations
The Lubicon Cree: A case study in ongoing human rights violations exerpts from article by  Amnesty International
he Lubicon Cree: A case study in ongoing human rights violations. ... 
Territory that the Lubicon have relied on to hunt, fish and trap is now crisscrossed by more than 2400 km of oil and gas pipelines.
That's more than five wells for every Lubicon person."..
.the basic health and resistance to infection of community members has deteriorated dramatically.
The lack of running water and sanitary facilities in the community, needed to replace
the traditional systems of water and sanitary management...is leading to the development of diseases associated
with poverty and poor sanitary and healthconditions." Lubicon complaint upheld by the United Nations Human Rights Committee in 1990
2. Melina Laboucan-Massimo speaking at the Defend Our Coast Rally; No Tar sands No Pipelines No Tankers
WATCH http://youtu.be/HqNu-m4zcG4 
filmed by Joan Russow} Photo courtesy of Greenpeace.
Melina Laboucan Massimo, a long-time Indigenous and environmental activist. Since 2009 Melina has been working as a tar sands campaigner for Greenpeace Canada. 
http://nobelwomensinitiative.org/2012/10/meet-melina-laboucan-massimo-indigenous-environmental-
Melina is a Lubicon Cree activist from  Northern Alberta who knows the reality of the oil sands too well.
Having grown up in the oil sands region, she witnessed first-hand the impacts of oil sands development on her Nation's people, culture, and land.
She now spends most of her days traveling inside Canada and around the world to share her their stories and realities with a larger audience. 
Watch a video of her presentation at the October 22 2012 "Defend our Coast "Rally in Victoria BC, Canada http://youtu.be/HqNu-m4zcG4
3. Rally in Front of the  BC Legislature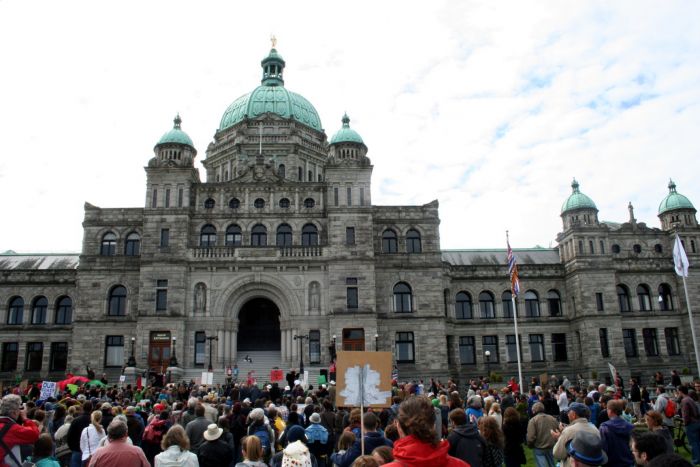 In front of the legislature, at this rally the large First Nation's banner read "no Tar sands no Pipelines no Tankers". 
After Melina's speech the non-First Nations speakers, ignored, Melina and the first Nation's banner, by saying, only "no pipe lines no tankers"!
4.Tarsands A Globally Recognized Disaster
Tar sands (also known as oil sands) are a mixture of mostly sand, clay, water, and a thick, molasses-like substance called bitumen.
Bitumen is made of hydrocarbons—the same molecules in liquid oil—and is used to produce gasoline and other petroleum products.
Tar sands are an increasingly common—but expensive and dirty—source of oil.
5. The Kinder Morgan Pipeline Will Carry Bitumen from the Tar sands From Alberta to British Columbia
Source: Vancouver Observer.
Measurement conversions taken from Google Conversions: 1 barrel = 160 litresSensative
6.Increased kinder Morgan tankers traffic moving through the Salish Sea
(which shouldbe nominated for a PSSA (Particularly Sensitive Sea Area)
https://www.raincoast.org/2011/12/tankers-and-tar-sands-oil-threaten-the-salish-sea
Tankers and tarsands threaten the Salish Sea
/https://www.theglobeandmail.com/news/british.../kinder-morgan.../article35043172/
The Trans Mountain pipeline expansion would bring billions in new revenue, but it ... an increase in coast-to-port tanker traffic,
and with that, a risk of more oil spills. We follow a tanker as it threads the needle from Burnaby to the open ocean. ... increasing
the full capacity of the system from 300,000 barrels a day to 890,000
7.Tsawout First Nations presentation at National Energy (NEB) Hearing on Kinder Morgan Expansion-
Photo by Heather Tufts
List of Impacts: Potential Project Impacts from Increased Marine Shipping, Accidents and Malfunctions:
By Chief Eric Pelkey
Potential Project Impacts from increased marine shipping, accidents and malfunctions:
1.Disruption to Tsawout's way of life, including increased alienation and interruption with Tsawout's sacred relationship
and reliance on the waters and lands of our Territory
2. Disturbance to burial sites, other spiritual and cultural sites 
3. Disturbance to food gathering locations, including fishing, harvesting aquatic resources, plant gathering and hunting activities
4. Disturbance to distribution, health, abundance and long-term sustainability of fishery and  aquatic resources, birds, mammals, vegetation,
threatened and endangered species, benthic communities and other resources from increased shipping operations and from oil spills
5. Impacts and disturbance throughout the marine ecosystems from wake, noise, air emissions, and lighting
6. Disruption to historic, modern and future marine travel ways and marine access throughout the Territory, including areas now considered within the U.S.
7. Decreased water quality and increased pollution, including introduction of non-native invasive species, 
8. Increased risk of collision and accidents, including water contamination, shoreline contamination and physical contact
between a tanker's hull and marine sub-tidal habitat from vessel grounding
9. Increased risk of impacts because of insufficient knowledge and capacity to contain and clean up diluted bitumen in the marine environment 
10. Continued and cumulative effects throughout the Territory, including contributing to climate change impacts, ecosystem effects,
and the health/physical, emotional/social and mental well-being of Tsawout
11. Infringements of s. 35 Rights, including our Treaty right to carry on our fisheries as formerly
8. To be determined whether there is Evidence of Coercion, by Kinder Morgan or the federal government,
of First Nations Through Kinder Morgan Offering "Financial Incentives"
Under Canadian law it is against the law to bribe foreign officials  (see resent case where a Canadian Company bribed
elected officials in Libya. would the same principle apply to offering financial to First Nations Chiefs?
9.Thousands of citizens walked 76 k. from Victoria to Burnaby against Kinder Morgan
Chris Cook from CFUV  REPORTING 
https://gorillaradioblog.blogspot.com/2018/03/ten-thousand-voices-against-kinder.html
itozens
10. Misconstrued Injunction: Citizens Arrested for Violating Kinder Morgan's Injunction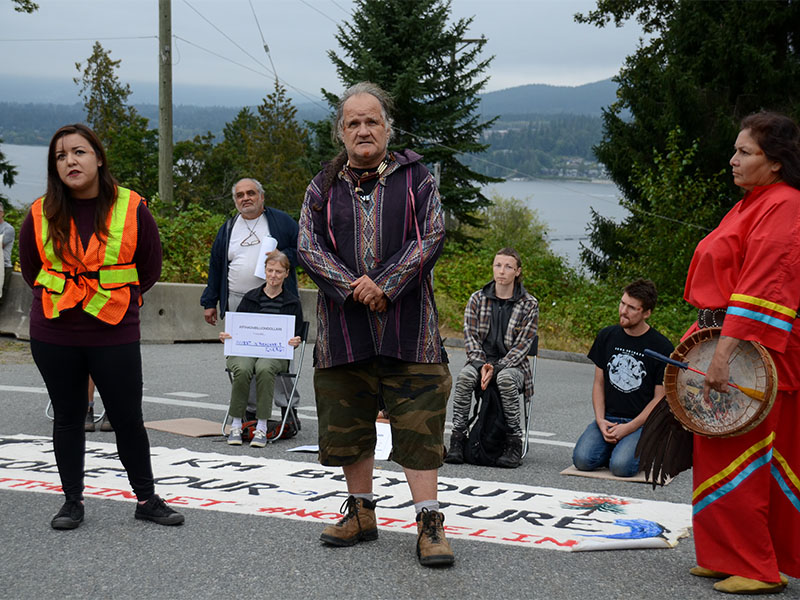 Ruth Campbell, a 66-year-old Vancouver resident and former lawyer for theAttorney General of B.C., became the
most recent person in a series of arrests at Kinder Morgan's oil terminal in Burnaby on Aug. 1.
An injunction should be for preventing harm not for preventing those who strive to prevent harm 
In the "Conduct of Civil Litigation in B.C. 1991", J.A. Norris indicated the nature of the remedy injunctions: 
The remedy [of injunction] of course, is an equitable one.  ' The exercise of the equitable jurisdiction is not to be restricted
by the straitjacket of rigid rules but is to be based on broad principles of justice and convenience, equity regarding the substance
and not merely the facade or the shadow.  It moves with time and circumstances.  (Norris, J.A.)  "
(Conduct of Civil Litigation in B.C., Chapter 42, August, 1991)
11.Trudeau government Will Buy Kinder Morgan's Trans Mountain Pipeline System (Trudeau,Inc.)
by Charlie Smith on May 29th, 2018 
• Bill Morneau and Justin Trudeau think it's a good idea to spend $4.5 billion of federal funds on the Trans Mountain pipeline.
12.Wide-spread Opposition to the Purchase of Kinder Morgan 
13 Adoption of United Nations Declaration on the Rights of indigenous Peoples (UNDRIP) with free prior informed Consent
Canada's former attorney, Jody Wilson-Raybould speaks  at the UN
https://www.youtube.com/watch?v=mJM8nZxM0GQ
Article 19 states
Article 19 of the UN Declaration on the Rights of Indigenous Peoples states: States shall consult and cooperate
in good faith with the indigenous peoples concerned through their own representative institutions in order
to obtain their free, prior and informed consent before adopting and implementing legislative or administrative measures that may affect them.
Kinder Morgan: Canada's Interpretation of Free Prior Informed is out of Sync with the International Interpretation
https://pejnews.com/index.php?option=com_content&view=article&id=10807:kinder-morgan-canadas-interpretation-of-free-prior-informed-is-out-of-sync-with-the-international-interprettion&catid=77:bc-justice-news&Itemid=219
Under the Vienna  Article 31.1 of  Convention on the Law of Treaties
"A treaty shall be interpreted in good faith in accordance with the ordinary meaning to be given to the terms of the treaty in their context and in the light of its object and purpose." 
14 Federal court quashed approval for Kinder Morgan Expansion
Court ruled that Canada  had not adequately consulted sixFfirst Nation and had not addressed tanker traffic impact on whales orcas 
The Federal Court neglected to require the government to obtain "free prior informed consent"
/www.orcanetwork.org/nathist/salishorcas1.html
15. Trudeau Contravenes  Article 19
Trudeau ignored  free prior and informed consent when he stated
the pipeline is going to be built we will consult with First Nations  i.e we will decide and notify you later
While Alberta is engulfed in fires, Jason Kenney, Andrew Scheer, and other their Conservative cohorts are lobbying for the kinder Morgan to go through.
June 18 2019  is scheduled to be the day that Trudeau finally decides will he will abide by  the principle of free prior informed consent 
Will he realize that the rights of the 
The Lubicon Cree and of the First Nations to be affected by the pipe line and tankers, be respected  and will he abide by the UNDRIP and only proceed if there is free prior informed consen or will   decide and after the fact, notify
NOTE 
ON jANUARY 15,  FACEBOOK WOULD NOT POST THIS ARTICLE BECAUSE FB  HAS CHACTERIZED PEACE EARTH AND JUSTICE NEWS, AS A SITE WITH POTENTIAL DANGEROUS MATERIAL
LIKE PEACE EARTH OR JUSTICE?
UPDATE; AFTER MAKING THE BLOCKING, PUBLIC ON TWITTER, IT SEEMS TODAY, FACEBOOK HAS ALLOWED IT TO BE POSTED ON JANUARY 16
Last Updated on Thursday, 13 February 2020 08:49