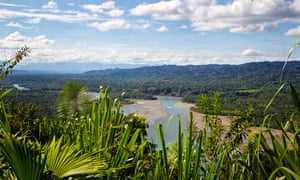 Chinese premier Li Keqiang is to push controversial plans for a railway through the Amazon rainforest during a visit to South America next week, despite concerns about the possible impact on the environment and on indigenous tribes.
Currently just a line on a map, the proposed 5,300km route in Brazil and Peru would reduce the transport costs for oil, iron ore, soya beans and other commodities, but cut through some of the world's most biodiverse forest.
The six-year plan is the latest in a series of ambitious Chinese infrastructure projects in Latin America, which also include a canal through Nicaragua and a railway across Colombia. The trans-Amazonian railway has high-level backing. Last year, President Xi Jinping signed a memorandum on the project with his counterparts in Brazil and Peru. Next week, during his four-nation tour of the region starting on Sunday, Li will, according to state-run Chinese media, suggest a feasibility study.
Starting near Açu Port in Rio de Janeiro state, the proposed track would connect Brazil's Atlantic coast with Peru's Pacific coast, via the states of Goiás, Mato Grosso and Rondônia.
The logistical challenges are considerable because the line will pass through dense forest, swamps and then either desert or mountains (there are two options for the Peruvian end of the route), as well as areas of conflict between tribes and drug traffickers.
Near the Bolivian border, it will come close to the "Devil's Railway", an ill-fated link built in 1912 between Porto Velho in Brazil and Guajará-Mirim in Bolivia. It cost 6,000 lives and was barely used after the collapse of the rubber industry.
Financing is likely to come from the China Development Bank, with construction carried out by local firms and the China International Water and Electric Corporation. China's involvement is partly explained by a desire to reduce freight costs, but it also hopes to create business for domestic steel and engineering firms that have been hit by the slowdown of the Chinese economy.