Posted by Joan Russow
Monday, 09 December 2013 08:38
UNITED NATIONS, Dec 7 2013 (IPS) - An internal United Nations draft document leaked last weekend has offered outsiders a rare look at longstanding disagreements between member states over the course of U.N. drug policy.
The document, first publicised by the Guardian and obtained by IPS, contains over 100 specific policy recommendations and proposals from member states, many at odds with the status quo on illicit drug eradication and prohibition.
"Countries feel real pain. But they are being told they should strengthen interdiction." -- Guatemala's U.N. Ambassador Gert Rosenthal
Read more...
Posted by Joan Russow
Sunday, 08 December 2013 15:57
By Chase Madar http://www.tomdispatch.com/blog/175781
/If all you've got is a hammer, then everything starts to look like a nail. And if police and prosecutors are your only tool, sooner or later everything and everyone will be treated as criminal. This is increasingly the American way of life, a path that involves "solving" social problems (and even some non-problems) by throwing cops at them, with generally disastrous results. Wall-to-wall criminal law encroaches ever more on everyday life as police power is applied in ways that would have been unthinkable just a generation ago.
Last Updated on Sunday, 08 December 2013 16:00
Read more...
Posted by Joan Russow
Saturday, 07 December 2013 16:57
 By CBC
The Canadian Press Posted: Dec 06, 2013 9:04 PM MT Last Updated: Dec 06, 2013
http://www.cbc.ca/news/canada/edmonton/potentially-damaging-jackpine-oilsands-mine-expansion-ok-d-by-ottawa-1.2454849
Shell Canada's Jackpine oilsands mine expansion plan has received the go-ahead from Ottawa, despite the environment minister's view that it's "likely to cause significant adverse environmental effects." 
In a statement late Friday, Environment Minister Leona Aglukkaq concluded that the effects from the 100,000-barrel-per-day expansion are "justified in the circumstances."
The project would be located north of Fort McMurray, Alta. The nearby Athabasca Chipewyan First Nation has said the project will violate several federal laws covering fisheries and species at risk, as well as treaty rights.
Read more...
Posted by Joan Russow
Saturday, 07 December 2013 15:10
By PRI  
http://www.loe.org/shows/segments.html?programID=13-P13-00049&segmentID=4
December 7, 2013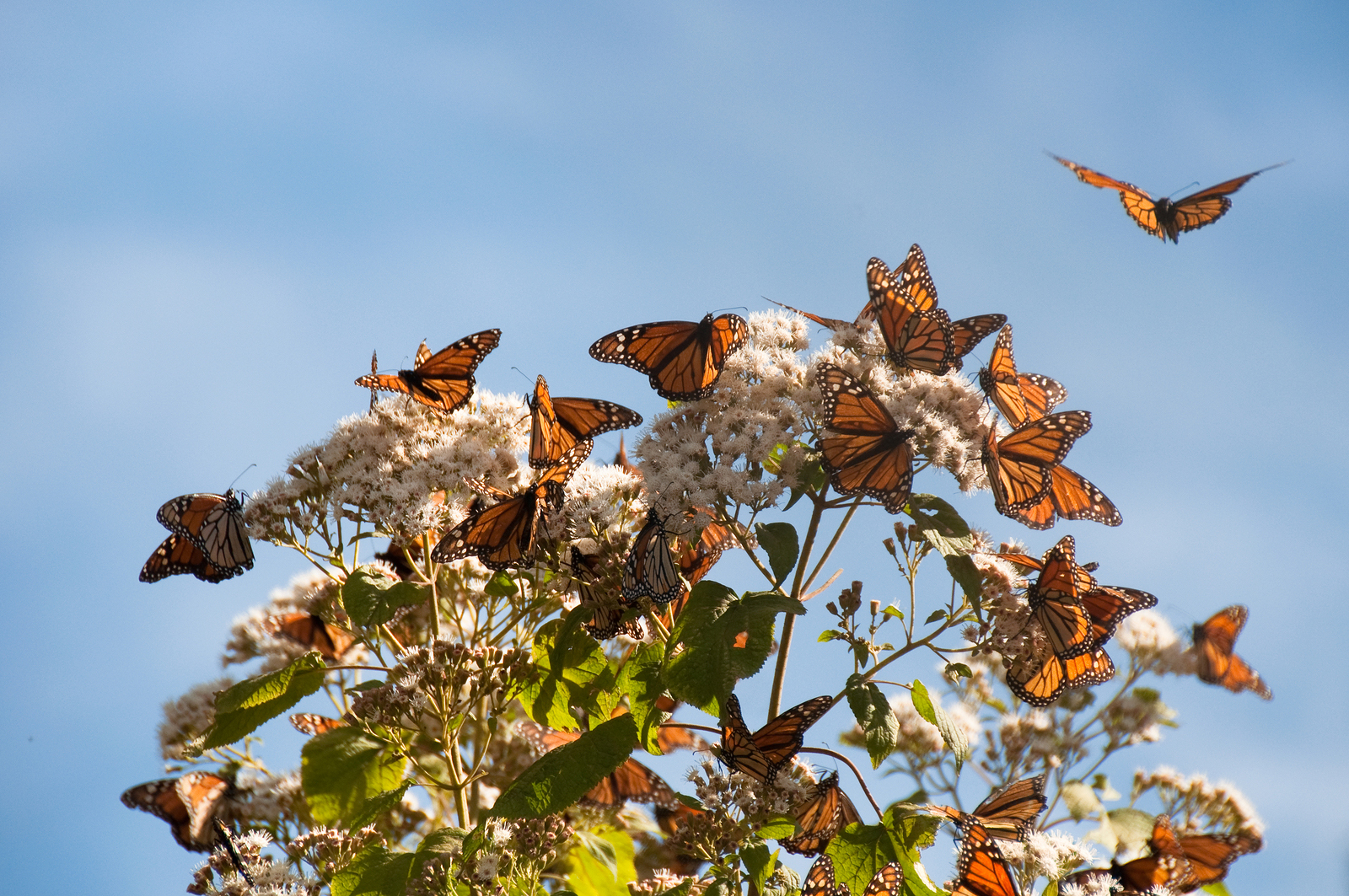 Monarch butterflies in Mexico (photo: bigstockphoto.com)
From the wildebeest to the monarch butterfly, this year many of the world's great animal migrations are out of whack. Migration expert and Princeton Ecology professor David Wilcove joins host Steve Curwood to discuss what's going on.
Last Updated on Saturday, 07 December 2013 16:46
Read more...
Posted by Joan Russow
Friday, 06 December 2013 10:04
by http://www.nytimes.com/interactive/2013/12/05/world/africa/Mandelas-Struggle-in-Posters.html?_r=1&
Nelson Mandela spent 27 years in prison before his release in February 1990. During that time, a global anti-apartheid campaign took off, and his international influence grew exponentially. Below are some of the posters used in the campaign
Last Updated on Friday, 06 December 2013 10:20
Read more...
Posted by Joan Russow
Friday, 06 December 2013 09:56
By Farm Wars http://farmwars.info/?p=12060
Mayor Billy Kenoi signed Bill 113 on December 5, 2013. Below is the message he sent to the Hawai'i County Council:
Aloha, Chair Yoshimoto and Members:
On Nov. 19, 2013 the Hawai'i County Council adopted Bill 113 Draft 3 adding a new article relating to Genetically Engineered Crops and Plants, and on Nov. 21, 2013 delivered the bill to me for my consideration.
After careful deliberation and discussions with members of my administration and the public, I am signing Bill 113. Our community has a deep connection and respect for our land, and we all understand we must protect our island and preserve our precious natural resources. We are determined to do what is right for the land because this place is unlike any other in the world. With this new ordinance we are conveying that instead of global agribusiness corporations, we want to encourage and support community-based farming and ranching.
Last Updated on Friday, 06 December 2013 11:34
Read more...
Posted by Joan Russow
Friday, 06 December 2013 09:30
By I.K. Birtwell, R.C. Degraaf, D.E. Hay, G.R. Peterson
The stimulus for this report was the initiation of beach-cast seaweed harvesting in 2012, close to Deep Bay and Bowser on the east coast of Vancouver Island. This area supports valuable fish habitat, recreational and commercial fisheries, seabirds and eagles and other animals that rely on the shore line and adjacent marine waters. This coastal area provides food, spawning habitats, nursery and rearing habitats, and migration pathways for many species of fish, birds and mammals. The area is adjacent to, and the waters are contiguous with, Baynes Sound which is used for an expanding shellfish aquaculture industry that supplies approximately fifty percent of BC's total shellfish aquaculture production. Seaweeds provide food and cover for many organisms when growing. However, it has been well-documented that when detached and washed ashore they provide readily-available nourishment for organisms at the base of the food chain. In the location of Baynes Sound that food chain includes the organisms that are used for food by fish, birds and mammals aside from that needed to meet the requirements for aquaculture.
Last Updated on Friday, 06 December 2013 18:41
Read more...
Posted by Joan Russow
Thursday, 05 December 2013 16:04
By Joan Russow PhD Gobal Compliance Research Project
December 4, 3013
Photo by Pamela Suzanne Smyth
BC is Ignoring the Precautionaary principle
Canada signed (June, 1992) and ratified (December, 1992) the legally binding Convention on Biological Diversity and that the BC Government, at the cabinet level, endorsed the Convention on Biological Diversity in 1992 (document obtained through Freedom of Information)
BC is thus legally bound to comply with the Convention on Biological Diversity, which contains the following commitment to the precautionary principle;
Where there is a threat of significant reduction or loss of biological diversity, lack of full scientific certainty should not be used as a reason for postponing measures to avoid or minimize such a threat
Last Updated on Friday, 06 December 2013 17:55
Read more...
Posted by Joan Russow
Thursday, 05 December 2013 15:16
By Suzanne Goldenberg, The Guardian
http://www.rawstory.com/rs/2013/12/04/conservative-group-alec-pushes-stealth-tax-on-homeowners-who-install-solar-panels/
Wednesday, December 4, 2013 13:30 EST
An alliance of corporations and conservative activists is mobilising to penalise homeowners who install their own solar panels – casting them as "freeriders" – in a sweeping new offensive against renewable energy, the Guardian has learned.
Over the coming year, the American Legislative Exchange Council (Alec) will promote legislation with goals ranging from penalising individual homeowners and weakening state clean energy regulations, to blocking the Environmental Protection Agency, which is Barack Obama's main channel for climate action.
Last Updated on Thursday, 05 December 2013 15:24
Read more...
Posted by Joan Russow
Thursday, 05 December 2013 10:19
Call it the Jason Bourne strategy. 
http://www.tomdispatch.com/blog/175780/
Think of it as the CIA's plunge into Hollywood -- or into the absurd.  As recent revelations have made clear, that Agency's moves couldn't be have been more far-fetched or more real.  In its post-9/11 global shadow war, it has employed both private contractors and some of the world's most notorious prisoners in ways that leave the latest episode of the Bourne films in the dust: hired gunmen trained to kill as well as former inmates who cashed in on the notoriety of having worn an orange jumpsuit in the world's most infamous jail.
Read more...
Posted by Joan Russow
Thursday, 05 December 2013 10:12
BALI, Dec 4 2013 (IPS) - The World Trade Organisation's ninth ministerial meeting at Bali, Indonesia has morphed into a fierce battle between the countries seeking social safety nets for hundreds of millions of poor people and those insisting on having advanced import-facilitation programmes in the developing countries on par with the industrialised nations.
These two narratives openly clashed at the plenary meeting Tuesday. "Millions of people depend on food security and millions of people are going to see what will be done on this vital issue," Kenya's foreign minister Amina Mohamed told IPS.
Read more...
<<

Start

<

Prev

1

2 3 4 5 6 7 Next > End >>


Page 1 of 7